Our business
All from one hand.
The rest is in yours.
Since 2004, 4CR has been the reference point for car refinishing in the world. Over 78 countries, more than 1600 products, the same philosophy: always be there with the right solution at the right time.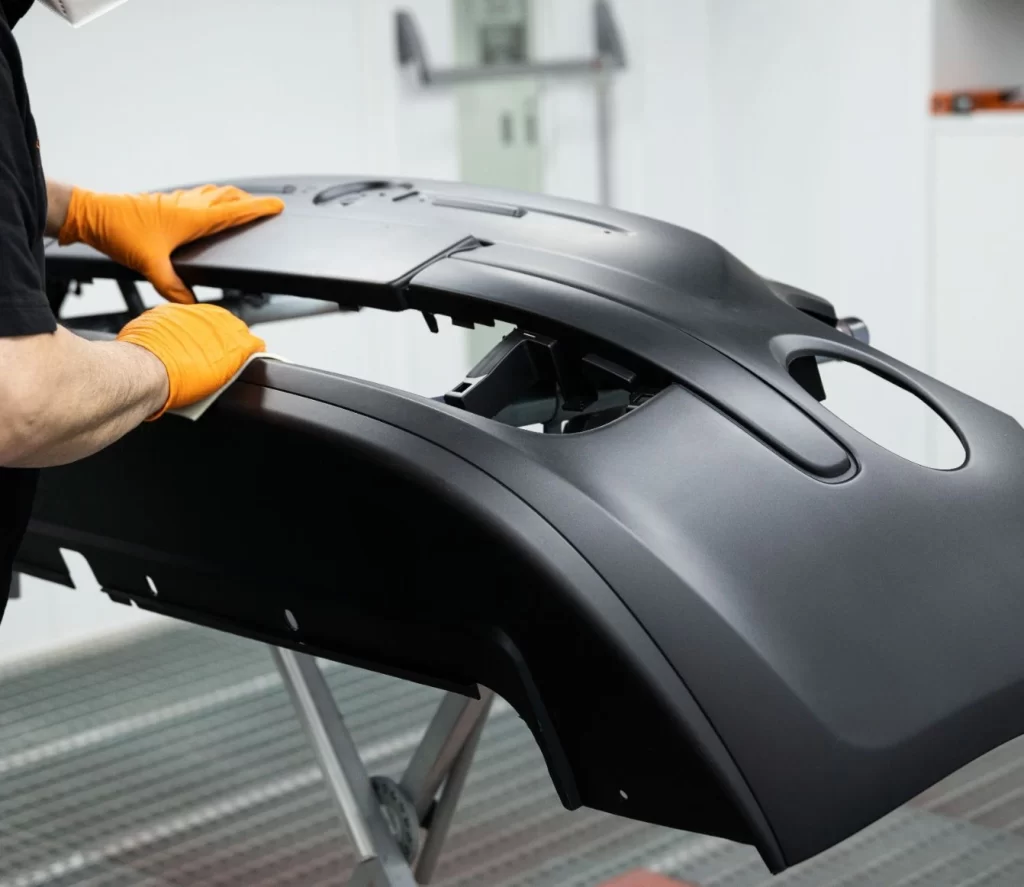 Our Products
Our range covers every car refinishing need.
Primers and clearcoats for bodywork, putties, abrasives, masking products, polishes and workshop equipment…
We offer more than products. We offer complete and integrable solutions, for an efficient and safe workflow. Together, we have optimized the painting, raising the quality bar.
We call it Orange PROSystem, and it is our signature.
4CR Catalogue 2022-2023
Discover the new edition of our catalog.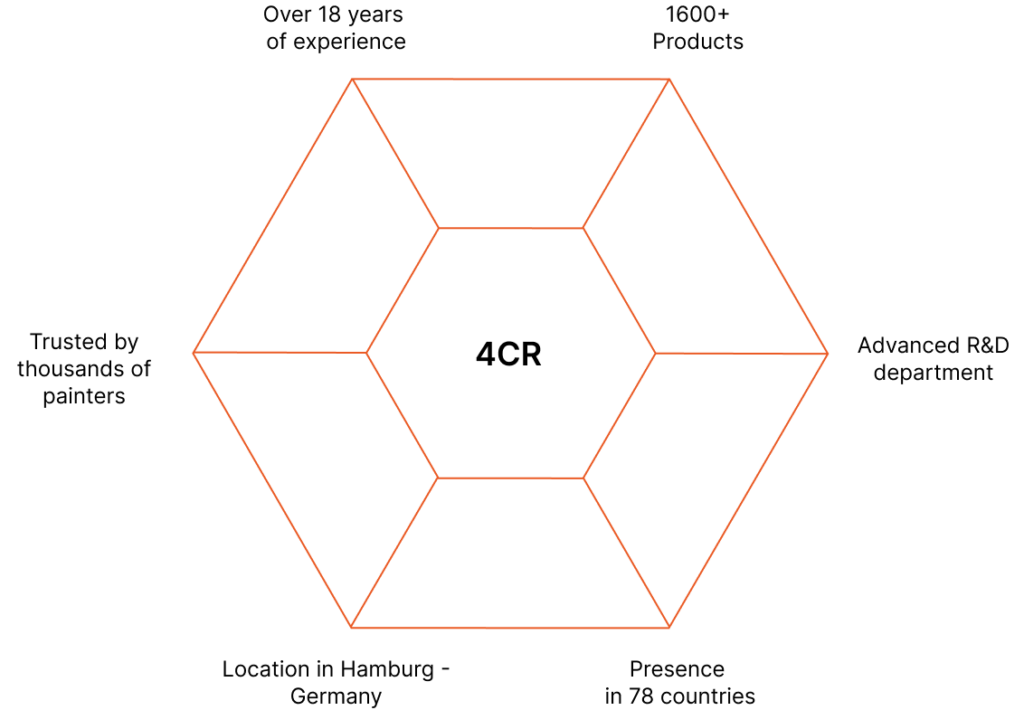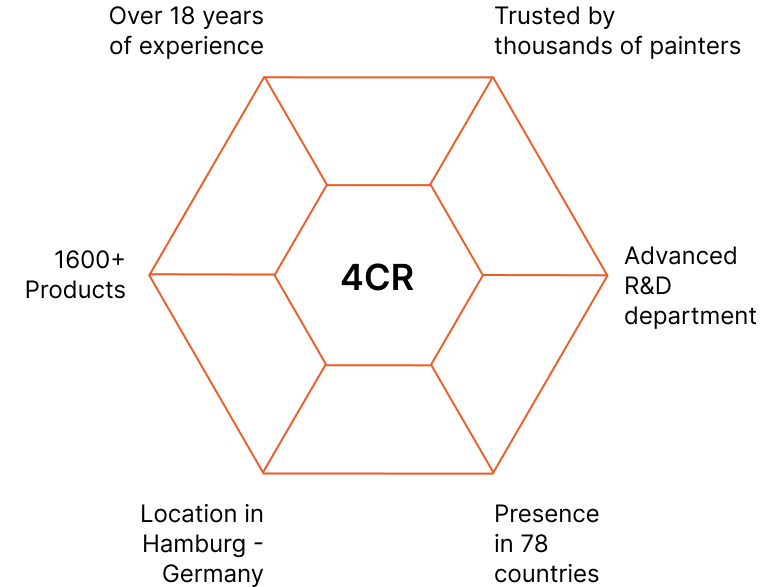 Our history
A climb to success thanks to you.
There were 4 of us when we founded 4CR near Hamburg. Now 4CR is the loyal partner of thousands of painters in over 78 countries, but we always feel like a big family.
We were born in Germany and from our country we have learned precision, consistency, the pride of a job well done. With an ear to listen to feedback, to always improve. 4CR's painting product range is the result of 18 years of work and also your contribution. Thank you and welcome at 4CR.
Let's climb the summit together: where will we be tomorrow?
TEAM
Us. Professionalism, passion, humanity.
VISION
Offer everything needed for the Car Refinish from ONE source.
MISSION
To create simpler and more effective products for daily bodywork work aiming at increasingly eco-friendly applications.
VALUES
Everything from one hand,
everything with our values.
To become a complete supplier for car refinishing, we knew what to rely on. A philosophy of success told by our values and the color that represents us: 4CR orange.

MY 4CR
Training
and application.
4CR is always close to you, even in training. Online courses, live training, in-company workshops. documentation. We make our experience available to professionals who choose us through free and tailor-made training. Your collaborators will have the opportunity to make the most of all the potential offered by the products 4CR.
Learn, create, evolve your work.
We're here to help you out.
Communication & Media
Our commitment:
to tell a world.
Car Refinishing is a world full of challenges and leaves room for everyone's talent. It is our commitment every day: to communicate it through the network. On our social channels we use experience and friendliness to inform about products, techniques and tricks to work better, bringing end consumers closer to the points of sale and guaranteeing them the best customer experience. Not only that: our social pages are spaces where we support our customers and resellers, like a big family.
The 4CR revolution is online. And it is open to all.
Download the app to access the documentation of all our products.
Point the camera at the product. In one click, you will know everything!
Network
Product suppliers? Better: we are a network.
Distributors who have already chosen us know it well: joining 4CR means being part of a network that is growing every day and where relationships are our most important resource.
Each 4CR branch is an innovation hub, as well as a point of reference where our specialized technicians are ready to welcome and help all automotive professionals. Here, the attention to the customer and the quality of our range are confirmed by experience, training and kindness.
4CR is a dynamic, lively brand that invests and communicates. For this we are already known by your potential customers and we are respected for our values, as well as for the products. Become part of the 4CR world. Let's get to know each other and shake hands.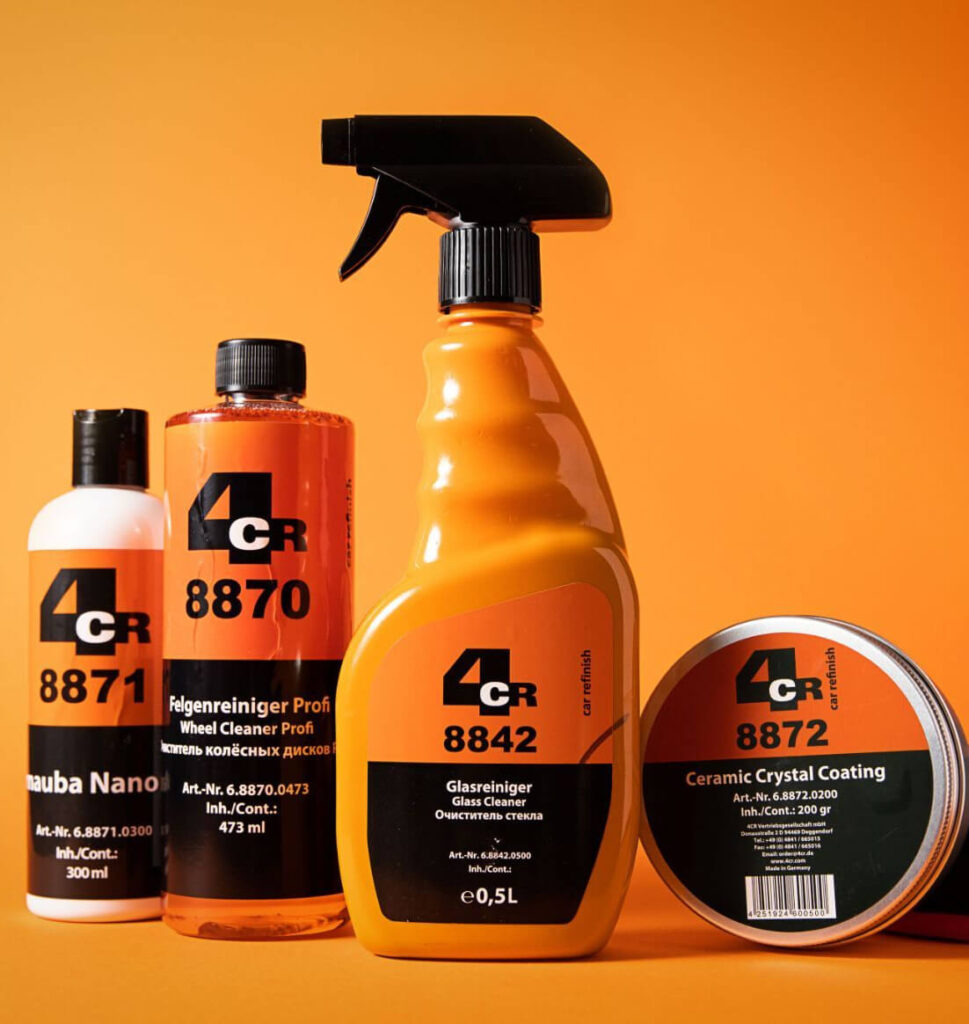 DISTRIBUTOR
Your local partner.
Our dealer network is a guarantee of presence and kindness for automotive professionals. Discover our dealer closest to you.